Be part of a team with more than 40 years experience in using food to heal diseases

Become a qualified plant-based chef in our three or ten month program

Get certified by Rouxbe, a professional culinary curriculum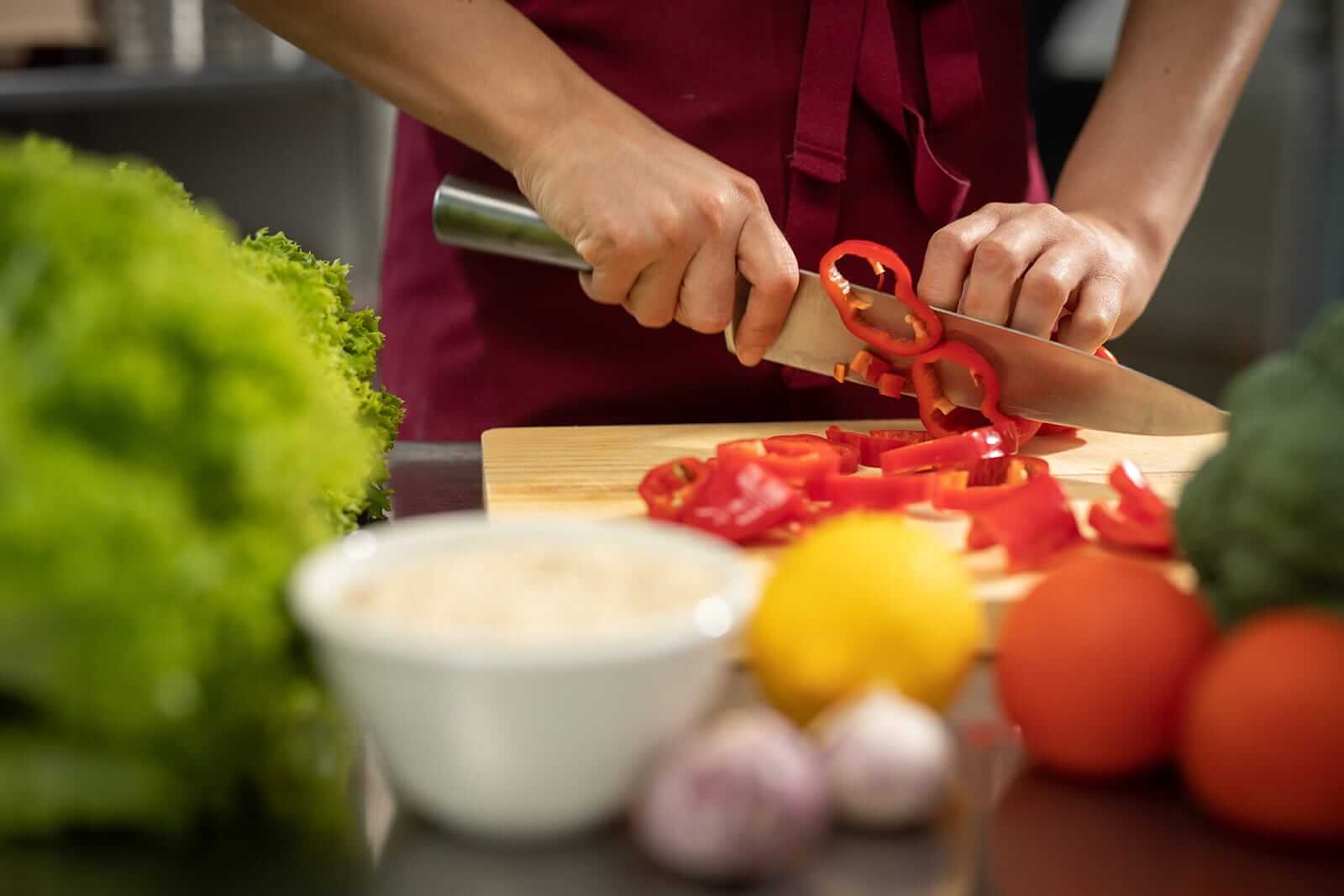 Curriculum
Web curriculum description plant-based cook outcomes
To acquire and develop skills in cooking methods and techniques in plant-based cuisine.
To build a solid foundation in plant-based nutrition and an understanding of the different philosophies, fads and trends.
To acquire an understanding of the systems that make up the operations in food services.
To see the personal and career development opportunities available in the foodservice and hospitality sectors.
To appreciate the role of foodservice and hospitality sectors in sharing the gospel.
Learn culinary skills with Rouxbe Plant Based Professional Course online
Demonstrate knife handling and a variety of knife cuts
Outfit the plant-based kitchen with essential tools and equipment
Explain basic principles of food and kitchen safety
Identify and explain complementary and professional skills
Demonstrate culinary proficiency in foundational wet methods, such as steaming and simmering
Demonstrate culinary proficiency in foundational dry methods, such as roasting and sautéing
Practice advanced recipe development with plant-based cuisine
Plan and organize food production and apply principles of batch cooking
Understand principles of flavor balancing, building, layering and seasoning
Prepare a wide array of plant-based staple recipes for breakfast, lunch and dinner
Prepare plant-based proteins, such as tofu, tempeh and seitan and non-dairy substitutions
Build mother sauces, dressings, marinades, condiments and pickles
Understand flavor profile development including herb and spice combining
Explore and appreciate plant-based cuisines and foods around the world
Practice cooking for specific dietary restrictions, special diets and wellness-centered cuisine
Understand gluten free ingredients, cooking technique and recipe development
Entertain and plan meals with attention to plating and presentation
Explain the importance of whole, minimally processed and nutrient dense foods in a plant-based diet
Understand the operational systems of a commercial kitchen
Menu planning
Food ordering
Equipment care
Staff scheduling
Health and safety

Waste management
Food storage
Cleaning methods

Personnel management
Budgeting
Food cost control
Developing skills through practical application
By working in Fredheim's kitchen
Apply knowledge and develop skills
Gain from the experience of our staff

Marketing
Leadership
Online sales
Staff scheduling

Spiritual growth by studying the Spirit of Prophecy in the context of healthful cookery
"Making 10 Talents" - character shaping reading material on spiritual revival in connection to everyday work
Getting inspired for health work by joining Fredheim staff devotionals
Learn to share your knowledge and skills through demonstrations and presentations with staff and guests
Active involvement in Kongsberg Seventh Day Adventist church ministry
Future opportunity
Work experience and training opens the door to:
Many opportunities to work in Adventist institutions across the world

Many Outpost Center International ministries across the world
Receive a certificate of recognition from Rouxbe which is recognised by the World Association of Chefs in most countries of the world to work as a qualified "Commis Chef"
Practical work and personal study
​The training is structured as an apprenticeship where on the job training is an integral part of the program.
​Fredheim kitchen is operating on a "Ten Day NEWSTART Period" from Monday to Thursday. Therefore students are asked to adjust their studying time according to the needs in the kitchen.
​Long weekends between the "Ten Day NEWSTART Periods" are meant to focus on the online Rouxbe course.
Time invested in studying Online Rouxbe "Plant Based Certification Course."

The course material covers approximately 220 hours of learning, which includes various learning activities, practical cooking exercises, written assignments and graded exams. Fredheim Education asks the students to aim for finishing the Online Rouxbe "Plant Based Certification Course" during their stay at Fredheim Lifestyle Center.
It takes regular work and discipline to complete the course. To earn your Certificate of Completion, we recommend you spend 15-20 hours per week learning to complete the course requirements.
Students are asked to keep a transparent "Log" of their time invested in the Online Course.
Meetings held every other week, together with your supervisor and fellow students, are arranged to inspire high goals in personal and spiritual life and achieve milestones in the studies.

We believe in practical education: That's why we are offering an

exclusive hands-on-training

during the whole duration of the cooking course conducted at Fredheim.

To give you a "kick-start" in the kitchen we supply you with a

"Mentored Learning Phase"

. In the beginning of your study we grant a practical experience in Fredheim's kitchen together with your own assigned mentor to ensure an exponential learning curve in your culinary performance.
Choose your preferred course length
We offer two types of programs that run every year
Adventist Chef INTENSIVE

Adventist Chef PLUS

Duration of program

3 months

10 months

Rouxbe Plant Based Professional unlimited access

✔️

✔️

Practical kitchen experience, training as dietic chef cooking and assisting during NEWSTART programs

50% position

80% position

Ingredients for Rouxbe Plant Based Professional

✔️

✔️

Commis Chef Certification on course accomplishment

✔️

✔️

Own chefs knife

✔️

✔️

Meals and accommodation included

✔️

✔️

Car usage

✔️

✔️

Restaurant visit (part of course)

✔️

✔️

Food as Business Modules

-

✔️

Final practical assessment

-

✔️

Holidays

-

3 weeks in December

Beginning of course

Intakes: February, May or September

September or February

End of course

May, July or December

June or July the following year

Available space

6 students per year

2 students per year

Target group age

18+

18+

Application Deadline

Apply anytime

Apply anytime

Student fees paid by

3 months before course starts

3 months before course starts

Student fees

45 000 NOK

30 000 NOK
Submit documentation
Completed

application form

Email - Curriculum Vitae (CV)*
Email - Scanned Passport photo in color*
The email address of three reference persons such as a Pastor, supervisor, teacher or suitable other (not family) – the form will be emailed directly to them
*Document is to be submitted to education@fredheim.org
Procedure after submission of application and documentation:
After the application is received, we will send an initial reply.

After the application deadline, applications will be reviewed.

If all the documentation is received, you will be contacted to organize a time for an online interview.

You will receive an answer from admissions in the case your application is accepted.
Insurance
Fredheim Lifestyle Center will cover all injuries and accidents which happen during work and study time. We strongly suggest signing up for travel insurance for the free time and vacation you will have in Norway during the course's length.